A Cyber-space for the students of Cheryl Everill
856-854-7965
Collingswood, NJ
Teaching students of the cello from Collingswood, Cherry Hill, Haddon Township, Haddon Heights, Haddonfield, Moorestown, Cinnaminson, Burlington, Camden, Washington Township, Winslow Township, and other Philadelphia and South Jersey area communities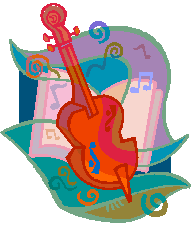 Welcome to The Cello Studio webpage. Feel free to wander around the different rooms, exploring the information on the site. The intent is to offer cello information, tips, studio policy, notices, and music related advice to my students . Feel free to e-mail any ideas for the site, questions, or comments to the address above!
Annual Recital - June 9, 2011 - 7:00 at the Collingswood Library. Recital fee due with your June payment.
Cheryl Everill has been giving cello lessons in the South Jersey area for many years, teaching students from Pennsville to Burlington, the Philadelphia area and Delaware. She taught for many years at both Settlement Music School and at Wilmington Music School before devoting her time to teaching at her home studio. Many of her students have gone on to include music in their careers, as cello performers or music teachers themselves. They have played as soloists with the Philadelphia Orchestra, Delaware Symphony, the Philadelphia Doctor's Orchestra, as well as other area groups. Her students have attended such well-known summer programs as Tanglewood, The Castleman Quartet Program, Lucerne Music Festival, etc. and play professionally with orchestras around the country. As students, they consistently place well in their school orchestras, regional orchestras and extracurricular musical activities.
Mrs. Everill also performs regularly as a contracted member of the Delaware Symphony orchestra, with which she has performed at Avery Fisher Hall, the Kennedy Center, and on the Latin-Grammy nominated recording, "Interludes". She has played principal cello in Haddonfield Symphony (now Symphony in C) and as a guest principal with Allentown , Newark and Delaware County Symphonies. She has performed as a soloist with both the Newark and Delaware County Symphonies, performing the Brahms Double Concerto and the Beethoven Triple Concerto. She has performed solos at the Brooklyn Museum of Art and in Rome, Italy as a guest of the USIS with the group "The Visual Music Ensemble". Her cello playing can be heard on artist Colleen McFarland's CD "Three Miles from Odessa" and in the independent film by Richard Hoffmann, "Invisible Mountains". She has had the privilege to play with some of the pops greats such as Benny Goodman (playing an introductory duo with him to "Begin the Beguine" - great fun!!), Debbie Reynolds, Joni Mitchell, Judy Collins, Arlo Guthrie, as well as the classical scene's soloists, such as Itzakh Perlman, Isaac Stern, Mtsislav Rostropovitch, Lynn Harrell, Nadia Salerno-Sonnenberg, Pincas Zuckerman, Sharon Robinson, etc. She has conducted master classes in chamber music and cello at Appel Farm, Settlement Music School Summer Camps and for the Institute for Arts and Humanities in Education at Rowan College. Her quartet, Vivace, has been heard in concert all around the Philadelphia area. Mrs. Everill feels that her love of playing the cello and her involvement as a performer is an integral part of her role as a teacher of the instrument.

| | |
| --- | --- |
| | Parent's space - page with info and articles for parents |
| | Brag space - what interesting things, musical and otherwise, students are up to |
| | Links - lots of interesting web links to cello and music related information |
| | Comments, Questions - a place to send information, questions to Mrs. Everill |
| | The Music Mall - where to get music, instruments, repairs, etc. |
| | Studio Policy - a must read for the business end of the lessons |
| | Forms - links to various forms used in lessons - Cello 100 sheet, practice sheets, etc. |
| | The Practice Room NEW CONTENT - ways to get yourself ready for the next lesson!!! |

Have fun exploring!!!